Building Stronger Communities By Crossing Cultural Bridges
Welcome to
La Familia Resource Center
La Familia Resource Center is a bilingual, multiservice, 501(C)3 non-profit organization developed to meet the needs of multicultural families and individuals by providing information, referrals, access to services and programs within the Southwest Louisiana community.
La Familia
Resource Center Staff

Administrative Office Manager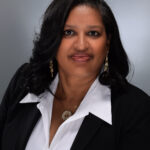 La Familia Resource Center began out of a true passion and love to help multicultural families adjust to life in Southwest Louisiana.
Being Hispanic myself and living this experience firsthand through my parent's journey to the United States, I truly understand and can relate. We continue every day to walk by faith and help families adapt and assimilate into the community.
I praise God for the mighty work He has entrusted us at La Familia Resource Center to do. We are building stronger communities by crossing cultural bridges.
Sylvia Chaves Stelly
Executive Director/Founder